Culture
Restorative staffing – public assistance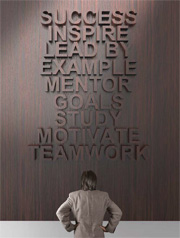 A large public assistance program asked for help crafting a staffing strategy to support its plan to transform eligibility operations from in-person to virtual customer service (phone and Internet). Listening to the results of surveys and interviews that we conducted, agency leaders learned that stress trumps fulfillment for many employees, given staffing shortages and high demand for services. They also heard concerns about middle managers being left out of decision making and implementation, and about "not-my-job attitudes" among some staff. In response, agency leaders scheduled more frequent, inclusive and open meetings that bring decision-making into the room. They delegated planning and implementation work to middle managers. They made plans to use competency-based practices to screen carefully in hiring and promotion and to strengthen behavior through performance assessment and development. Understanding that virtual service may reduce the personal contact with clients from whom staff draw fulfillment, the agency also made plans to counter this loss by upgrading employee recognition practices, grounded in client service results. (See "Restorative Staffing", Policy & Practice, APHSA, April 2014)
Hiring reform – child welfare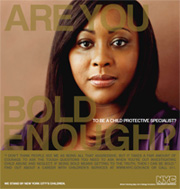 Confronted with nearly 20 percent attrition and complaints about performance, the leaders of New York City's child welfare program asked us to reform the way they hired front-line staff. The project began with listening — asking focus groups of high-performing employees what their work requires and what excites them about it. A team of operations, personnel, technology and marketing people moved candidate sourcing onto the web, created a novel self-screening process, implemented competency-based hiring and launched an innovative marketing campaign. The agency — and the entire city — learned what it takes to handle these jobs, as told through posters that appeared in NYC subways and that line the halls of agency offices: clear, brave, cool, wise, smart, strong, good, bold, tough, calm, kind and real people. The changes doubled job applications, attracted people far more suited for the work, helped cut attrition in half, and strengthened morale. The project won a citywide award for technical excellence. (New York Times article.)
Leadership alignment – juvenile justice
A public agency that manages juvenile detention services joined a larger children's service agency in a merger. The new leader asked us to bring his managers — 35 in all — together to set direction for the group. We interviewed and surveyed each manager; completed an all-staff survey to measure organizational values, and reviewed strategy documents. We facilitated a retreat for the group that resolved serious concerns about involvement and communication, produced common agreement to balance security with restorative care for the children, families and communities served, and converted the strategy into tangible implementation projects. The work established a language and structure that the leadership group used in its daily work and generated commitment to further strengthen teamwork, develop the work force and improve morale.
Hiring reform – health care
While managing a financial turnaround project for an acute care hospital, we discovered that the hospital had hired no new nurses, operating room and radiology technicians and other critical clinical staff in nearly a year. The hospital had not replaced departing staff; it relied on overtime and expensive temporary staff to maintain basic services. Vacancies averaged 25 percent, morale had plummeted and attrition was excessive, making financial turnaround impossible. We gathered leaders from personnel, nursing, finance and operations for a three-day breakthrough session to resolve the hiring problem. The group set the simple but aggressive goal of hiring 30 new staff in 30 days, and it organized recruiting ads, employment open houses, expedited screening and on-the-spot conditional job offers and other changes. The hospital hired 83 staff in 30 days, eliminated its hiring backlog, changed its human resources practices radically, and demonstrated to the entire community the power of a skilled and focused change effort.
Staffing model – food stamps
The nation's largest SNAP (Food Stamps) program — serving more than 1.5 million people — had seen its work change significantly over the years with introduction of new technologies, new operations models and other reforms. Recent hiring constraints left the agency short-staffed and outdated planning tools left it unprepared to convince budget officials of its hiring needs. We built a staffing model grounded in a large field survey of the tasks completed by front-line workers. We combined the survey results with administrative data to determine the staff required for varying volumes of work, and we prepared the agency to update and manage the model. The model provided support for essential additional hiring, enabled the agency to manage productivity, and allowed it to estimate the impact of future operational changes on staffing levels.